Continuous glucose monitoring provides a more complete picture of a patient's glucose levels, compared to what they'd be able to glean from a single fingerstick reading from a blood glucose meter (BGM). Greater access to more frequent glucose insights can support more effective diabetes management for you and, ultimately improving patient outcomes.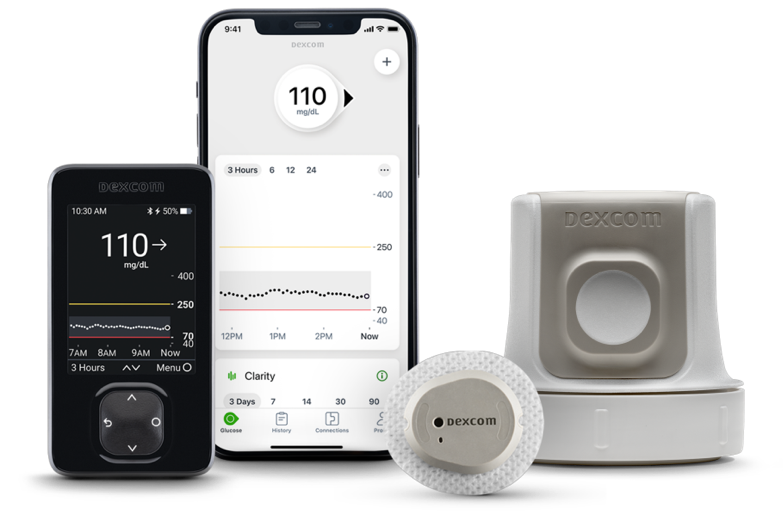 Watch a video showcasing how a continuous glucose monitoring system compares to a traditional blood glucose meter below, and keep reading to learn how the Dexcom G6 Continuous Glucose Monitoring (CGM) System can give insulin-using patients the power of glucose at a glance.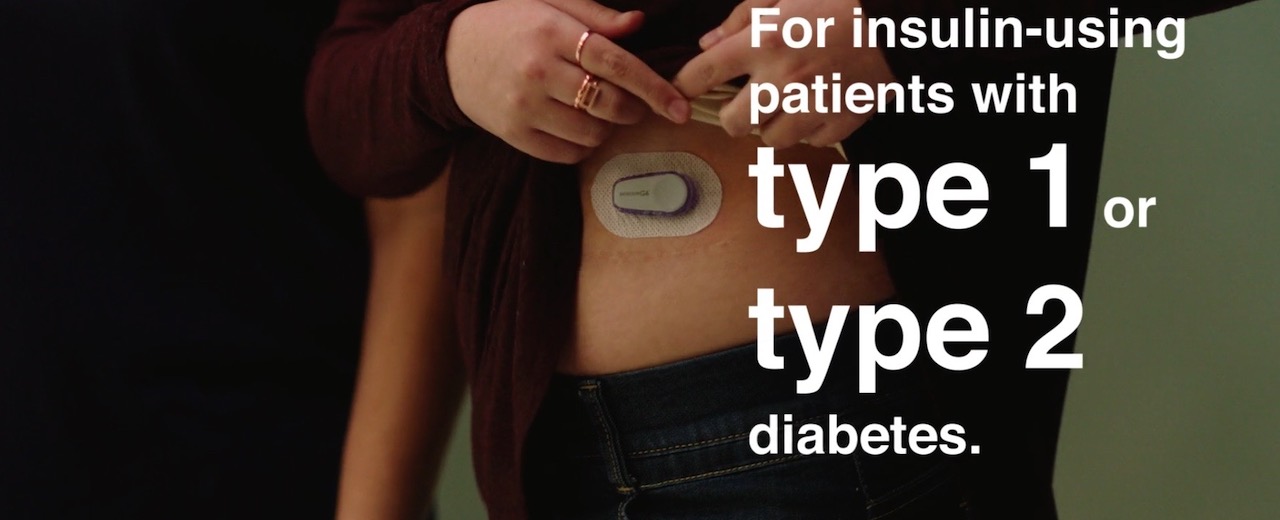 Image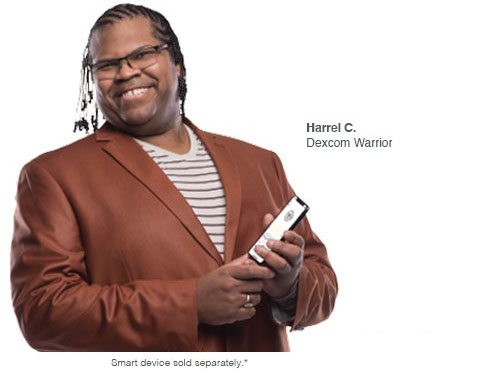 The Difference is in the Data
Patients with all types of diabetes may experience similar challenges, despite their different diagnoses. Some may struggle to understand how diet decisions affect their glucose levels, how to effectively titrate insulin, or how the timing of exercise and other activities plays a role in their treatment. 
Continuous glucose monitoring technology serves to help address these issues, and more. Real-time CGM (RT-CGM) systems, like the Dexcom G6 CGM System and the all-new Dexcom G7, transmit glucose measurements at regular intervals from a wearable sensor to a nearby receiver or compatible mobile device* via Bluetooth.
Dexcom G6 and G7 CGM Systems provide users with actionable information, including historic and current glucose values and velocity of glucose change, without requiring volitional behavior.
Continuous Insight, Day and Night 
Dexcom CGM Systems helps minimize the guesswork derived from making diabetes treatment decisions based on a BGM reading alone and requires zero fingersticks† to access glucose data, helping to empower patients to self-manage their diabetes.
†If your glucose alerts and readings from Dexcom G6 or G7 do not match symptoms or expectations, use a blood glucose meter to make diabetes treatment decisions. 
Image

Primary CGM Components
The Dexcom G6 CGM System consists of four main components: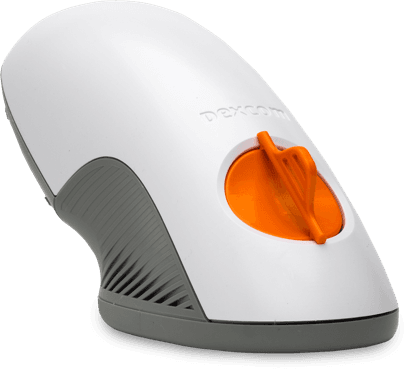 Auto-applicator
Provides simple sensor insertion at the push of a button. A patient can apply the sensor on their own by following the instructions for use.

Sensor
Monitors interstitial glucose levels through a small wire inserted just underneath the skin, sending a signal to the transmitter (10-day lifespan).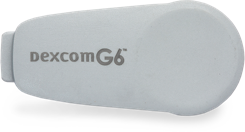 Transmitter
Fastened on top of the sensor; sends data wirelessly to the wearer's compatible display device* (3-month lifespan).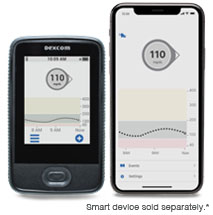 Display device
Allows patients to view their real-time glucose data and trends. Dexcom G6 also enables patients to receive a suite of alerts, an Urgent Low alarm, and other notifications on their display device,* which can help warn them of high or low glucose levels.
The Benefits of CGM for Insulin-Using Patients with T1D or T2D
Proven outcomes support your patients' progress.
Long-Term CGM Use Supports Long-Term Benefits and Outcomes
A seven year, real-world clinical trial - the longest CGM outcome study to-date - reiterates the clinical impact of using real-time CGM (RT-CGM) systems like Dexcom G6 or G7. Study participants with T1D who initiated RT-CGM within 1 year of diagnosis showed significantly reduced A1C levels compared to those who initiated RT-CGM more than three years after diagnosis or did not use RT-CGM throughout the study period.4
This supports the overarching notion that RT-CGM supports improved outcomes and diabetes management for your patients in a way that is both accessible and sustainable. Whether your patients ore sitting down for a meal, leading a presentation, or turning in for the evening, they can feel more confident in their daily diabetes treatment decisions that help shape the rest of their lives.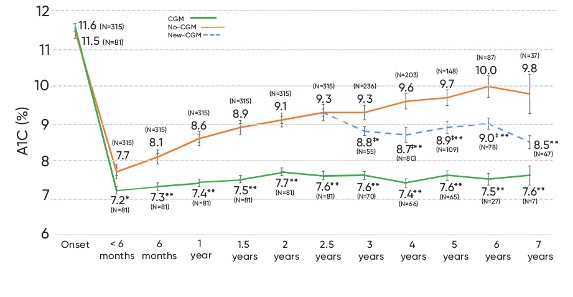 Data presented as least square mean and standard errors adjusted for age at onset, sex and insulin delivery method (insulin pump vs multiple daily injections). Number in parenthesis indicates sample size. Reduced numbers in the CGM group (and new-CGM during year 6 and 7) due to variable length of follow-up. *p<0.05, **p<0.0001 between CGM (or new-CGM) vs no-CGM group. ‡p<0.001 between new-CGM vs early CGM users.
Image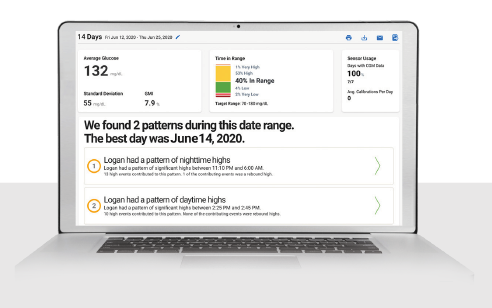 Data Sharing Options Help Connect
Care Teams
Dexcom G6 and G7 glucose data may be synced with the no-cost Dexcom Clarity software,¶ streamlining the way you can review patients' glucose insights during in-person or telehealth appointments.
Glucose data from your patients' Dexcom G6 app is automatically# sent to Dexcom Clarity, removing the hassle of manual uploading.

**

Automated reports generated from the synced data offer a simplified alternative to paper logs, which can help save valuable appointment time.

CGM interpretation using the 'Overview' report is billable under Medicare and private insurers (CPT code 95251).††
Dexcom CGM Systems Frequently Asked Questions
---
*To view a list of compatible smart devices, visit dexcom.com/compatibility.
‡This predictive alert can be triggered with impending hypoglycemia (glucose of 55 mg/dL or below is predicted to occur within the next 20 minutes).
§Based on the difference in A1C between baseline and measurements obtained 90 to 180 days thereafter. 
||Prior to participating in any study procedures, each subject was asked to voluntarily document their consent by signing an Institutional Review Board (IRB) approved informed consent form.
¶Register for Dexcom Clarity at clarity.dexcom.com/professional/registration. 
#An internet connection is required for patients to send their glucose data to Dexcom Clarity via a compatible smart device: dexcom.com/compatibility 
**Healthcare providers will only be able to view a patient's glucose data if the patient elects to share it with them through Dexcom Clarity. 
††The reimbursement information provided is intended to assist you with billing for your services related to continuous glucose monitoring (CGM). It is intended for informational purposes only and is not a guarantee of coverage and payment. Providers are encouraged to contact their local payers with questions related to coverage, coding and payment. Rates provided under the Medicare PFS and OPPS are rounded to the nearest hundredth. 
1 Puhr S, et al. Diabetes Technol Ther 2019;21(4):155-8. 
2 Dixon, et al. Journal of Diabetes Science and Technology. 2020;14(5):908-911.
3 Grlben TR. Noar A Blalock 0, Polonsky WH. Chmge m Hemoglobin Ale and Quality of Life with Real-Time Continuous Glucose Momtonng Use by People with Insulin-Treated Diabetes in the Landmark Study. Diabetes Technol Ther 2021:23.S3S·S39 
4 Champakanath A, et al. Diabetes Care. 2022;45(3):750-753.