Calibration and Fingersticks
With the factory-calibrated Dexcom G6, users do not need to calibrate the GCM. By entering the sensor code labeled on each sensor into the user's display device, the Dexcom G6 provides accurate sensor glucose readings. This presentation clarifies the difference between calibrations and fingersticks, describes the calibration schedule when a sensor code is not entered, and provides data demonstrating that users do not need to calibrate.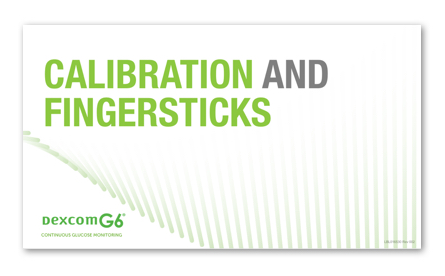 Related Content
In this 45 minute session, our speakers discuss tips for integrating continuous glucose monitoring (CGM) technology into your telehealth practice to remotely support your patients with diabetes. This...
This resource is a brief, illustrated slide deck on setting up and using the Dexcom G6 Continuous Glucose Monitoring (CGM) System with the receiver. The presentation covers: Sensor insertion...