Dexcom Sample Experience
Say hello to Dexcom Continuous Glucose Monitoring (CGM) Systems—and goodbye to fingersticks* for your insulin-using patients with type 1 or type 2 diabetes. The Dexcom Sample Experience is a no-cost sampling program that helps introduce you and your patients to the features and benefits of Dexcom CGM, while offering actionable insights that can inform your treatment decisions.
*If your glucose alerts and readings from the Dexcom G6 CGM System do not match symptoms or expectations,
use a blood glucose meter to make diabetes treatment decisions.
can I only extend the Dexcom sample experience option to certain patients?
The Dexcom sample experience may be provided to your patients with diabetes who have compatible smart devices,† but it may be more applicable to some of your patients than to others. Here are a few patient considerations to keep in mind: what is included
Here are the Dexcom G7 and G6 components included as part of the Dexcom sample experience:
Dexcom G7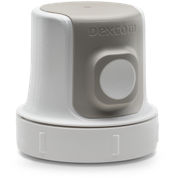 Auto-Applicator
The easy-to-use sensor applicator is painless, smaller, and uses less plastic than the Dexcom G6.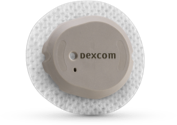 Sensor
60% smaller than the Dexcom G6, the new sensor warms up in as little as 30 minutes (10-day lifespan).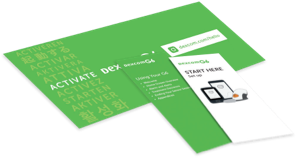 Patient Instructions
The activation card provides guidance for patients to start on the Dexcom G7 including a set-up guide and instructions for use.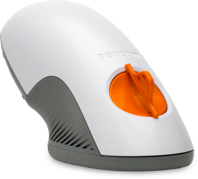 Auto-Applicator
Auto-applicator allows for simple sensor insertion at the push of a button.

Sensor
Sensor monitors interstitial glucose levels through a small wire inserted just underneath the skin, sending a signal to the transmitter (10-day lifespan).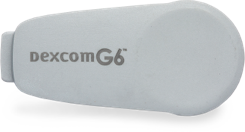 Transmitter
Fastened on top of the sensor, the transmitter sends data wirelessly to the wearer's compatible smart device† (3-month lifespan).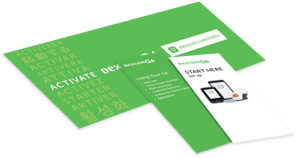 Patient Instructions
The activation card provides guidance for patients to start the 10-day digital journey; it complements the Dexcom G6 set-up guide and instructions for use.
additional digital journey for your patients
Dexcom sample experience is the only CGM sampling program that offers a complimentary, 10-day digital journey that guides your patients along their first Dexcom G6 or Dexcom G7 (coming soon) experience.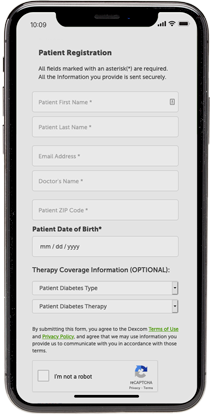 1
Patient Registration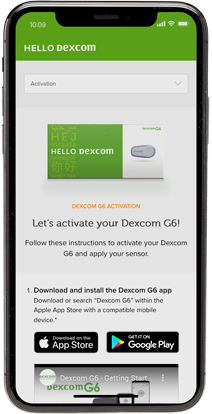 2
Follow Activation Instructions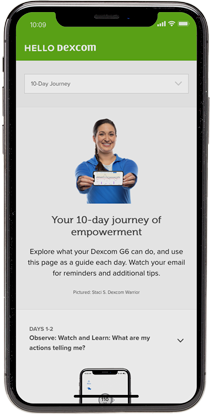 3
Start Their 10-day Digital Journey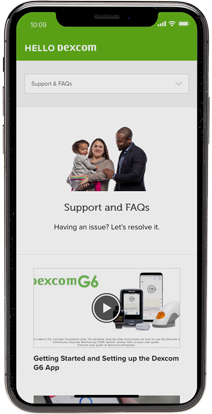 4
Access Support and FAQs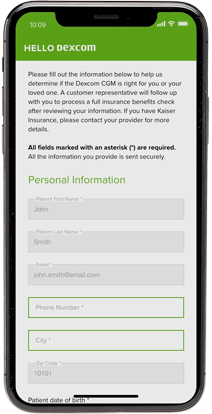 5
Join the Dexcom Family
---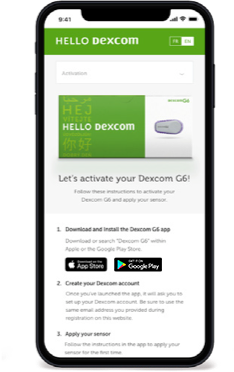 †IMPORTANT:
Patients must have a compatible iOS or Android smart device as part of this experience, as no receiver is included. Smart devices sold separately. To view a list of compatible devices, visit dexcom.com/compatibility.
need support?
If you or your patients have any questions or concerns about product use, please call the Dexcom CARE line at 1-877-339-2664. During business hours, you will be able to choose the Education and Training option to speak with a diabetes educator who can answer questions regarding product use. A technical support option is available 24/7 at this same number.
 
---