Dexcom G6 and Pro CGM Systems
Image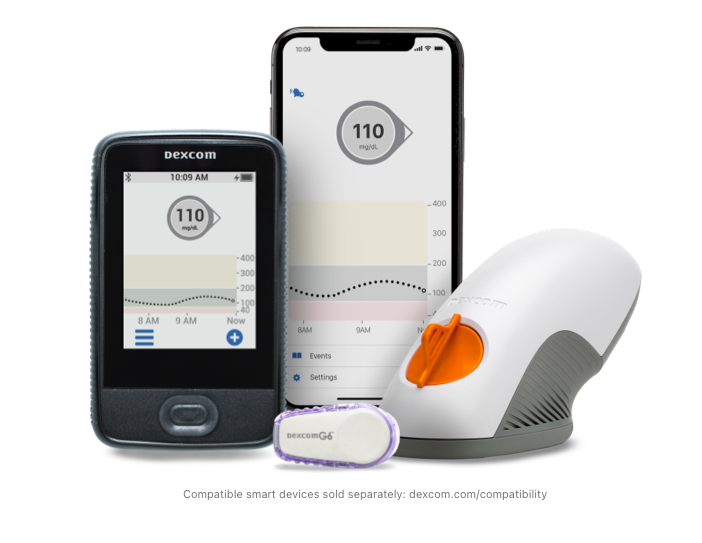 Dexcom G6 CGM
Dexcom G6 CGM is the first real-time, integrated continuous glucose monitoring (iCGM) system authorized to work with a range of connected insulin pen and hybrid closed-loop system partners.
 
Insulin pump and pen connections
Adult and pediatric patients ages 2 years+ with type 1 or type 2 diabetes
Comprehensive insights
Image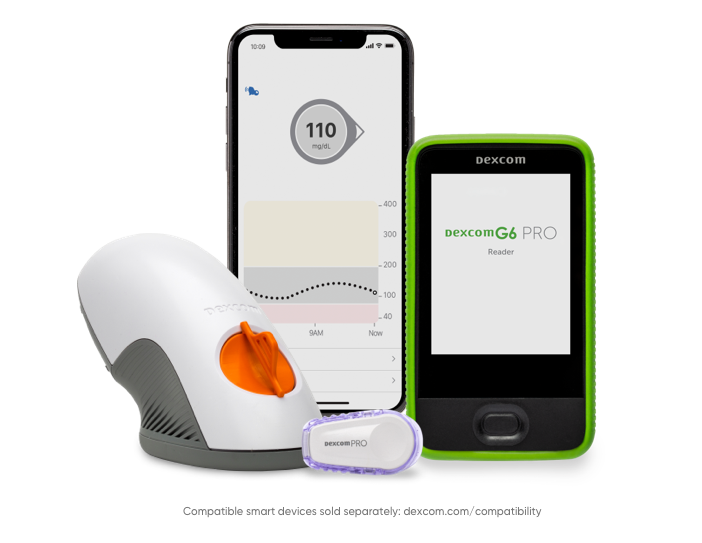 Dexcom G6 Pro CGM
The Dexcom G6 Pro Continuous Glucose Monitoring (CGM) System is a practice-owned, professional diabetes management tool with the accuracy of the Dexcom G6 CGM System for personal use.
 
Blinded or unblinded mode 
for personalized planning
Patients with or without diabetes
Simplified office workflow
‡If your glucose alerts and readings from the Dexcom G6 CGM System do not match symptoms or expectations, use a blood glucose meter to make diabetes treatment decisions.
---
* Compatible smart devices sold separately: dexcom.com/compatibility.
† Mean absolute relative difference (MARD) is a statistical measure of accuracy.
§ This predictive alert can be triggered with impending hypoglycemia (glucose of 55 mg/dL or below is predicted to occur within the next 20 minutes).
|| Separate Dexcom Follow app required. Internet connectivity required for data sharing. Followers should always confirm readings on the Dexcom G6 app or receiver before making treatment decisions. Followers must have compatible smart devices to use the Dexcom Follow app.
2 Beck RW, et al. JAMA. 2017;317(4):371-378.
3 Welsh JB et al. Diabetes Technol Ther. 2019;21(3):128-132.
4 Puhr S, et al. Diabetes Technol Ther. 2019;21(4):155-158.